With the economy, the national disasters and major news happening this year, I feel very lucky that 2011 was a good year for me.
I got to go to BlogPaws this year, my first blogger conference!  I was great meeting all the faces behind the blogs and learning about different things to help improve my blogging.  I also joined the BlogPaws Community where I've enjoyed interacting with other pet bloggers.
I was able to join in promoting different causes such as Adopt-a-Less-Adoptable Pet week and Blog the Change. It's great to be able to help homeless pets in some way.
I added 2 new cats to my family- diabetic kitties Minuit and Pough both adopted from Diabetic Cats in Need and shared this group for Blog the Change day.
Through adopting Pough, I also got to learn about and share an organization that rescues special needs cats- Milo's Sanctuary by guest posting on Cat Chat with Caren and Cody.
This year we experienced weather in Pennsylvania- freezing temps, snow, intense heat, rain and more rain and more rain.  All that rain led to the river reaching and going over the flood stage in September.  Living the flood plain, we had to evacuate. I packed up my crew and we headed to my sister's house for 2 days waiting and hoping the flood walls held.  Lucky for us they did (and I will never complain about having to pay a yearly levy fee again). Other people in our area weren't so lucky and 4 more later people are still recovering, but it was wonderful seeing everyone pull together to help. And wonderful seeing the Red Cross shelters accepting pets.
I been more active on my blog this year, including doing a post a day from December 1st to December 25th (hey, it's a lot for me!). I worked a job and went to school at the same time for years and had gotten away from blogging so it's nice to get back into that groove.,
I'm looking forward to 2012-blogging more, being more active on
Facebook
and
Twitter
. And the biggest thing- 2012 is going to be the year I start a pet food pantry in my area.  It's something I've been wanting to do, I've held off because I've been trying to get together the funds to apply the state before I officially do anything, but this year it's going to happen (making it true by saying it). Being able to make a difference for pets online has really pushed me to wanting to make a difference for pets in my community.
What ways are you  planning to make a difference for pets in 2012
This post is part of the New Year, New Followers Hop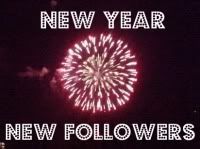 and the Saturday Pet Blogger Hop.