Pet Hacks is a new feature on afFURmation. It will share do-it-yourself projects pet owners have made to make their pet's life easier, happier or just more fun! Remember every pet is different so what may work for one pet might not work for another.
I love looking at pet furniture trying to figure out what I like and what would look good in my house. Unfortunately, it tends to be out of my price range so the pet furniture here is pretty minimal. So I love when I find something like this Dog Bed made from a chair.
Gail from My Repurposed Life loves to turn trash into treasure and made this for her Grand-dog Louie to enjoy.  She was kind enough to answer a few questions about it.
Why did you decide to make your project?
I was inspired by a project I saw a friend make.  I love picking up chairs for free, or at most $5.00. (I have a $5.00 thrifting limit for projects) 
What was Louie's first impression of his new place?
Louie's first impression was "who ya kidding"?   However he warmed up to it in no time, because his mama (my daughter Jamie) didn't allow him to sleep in her bed. 
 

What tips do you have for someone thinking about doing the same thing?
I would recommend looking for free or castoff chairs.  Many broken chairs are thrown out.  Therefore there would be no reason to destroy a good chair for this project.  I would look for a chair with pretty details on the back.  Keep in mind that this project also works really fabulous as a doll bed for your little one.
Visit Gail's blog  –
My Repurposed Life
 to learn how to put your own dog bed together (she also has a great FAQ page answering some DIY questions).You can bet I'm going to be taking a closer look at the chairs next time I head to the thrift store.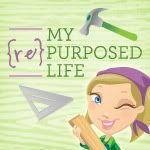 Gail is a do-it-yourselfer who likes to transform items that are heading to the trash into usable items. Along with her Grand-dog Louie and her daughter Jamie, she shares her life with 2 cats, Kitty and Matt and some fish.
Do you have a do-it-yourself pet project you'd like to see featured on Pet Hacks? Just complete this form to submit your project.