It's Halloween!  I was looking through some of my pics on my computer looking for a good one to share and came across this one-
This is my Dachshund, Dazs. He had such a good sense of humor and was such a good sport.  He proudly wore the costumes I made him from the hotdog to this butterfly and even the caterpillar.  Sadly, he passed away from cancer almost 10 years ago, but I have such great memories of him and am so happy I adopted him and made him a part of my life.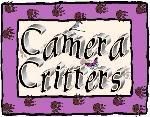 What was your pet for Halloween?